Let your voices be heard!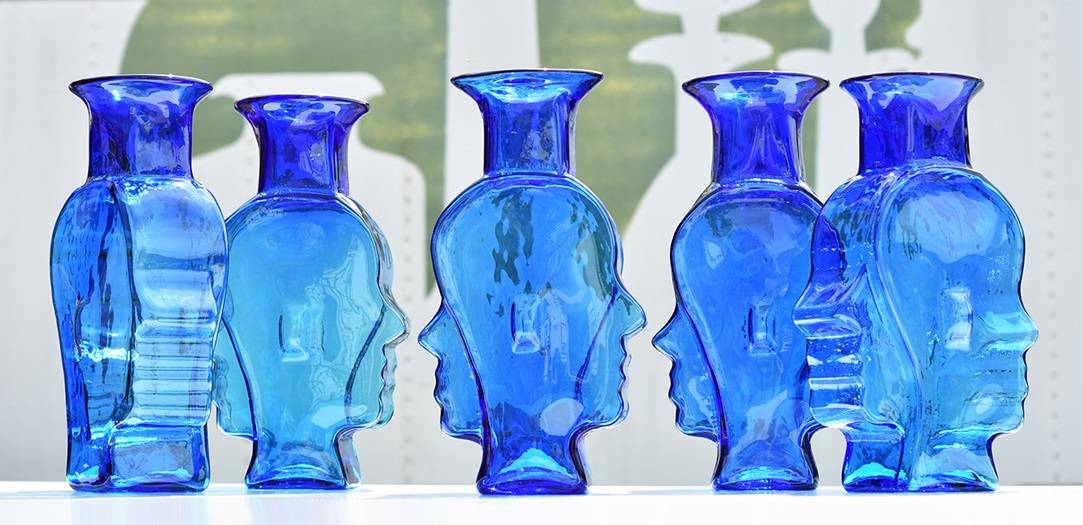 This year's WV Day piece, titled "Voices", celebrated the Appalachian tales and oral traditions that make us unique. To coincide with the production of this edition of 156 pieces; Blenko asked present, and future fans to submit their own stories or memories about glass and West Virginia. Shared submission can be seen here.
Share your story with us via email at stories@blenko.com
---
My first memory of Blenko glass is pouring from the many colorful water bottles that dotted each of the tables at Bailey's Cafeteria in downtown Huntington, where we ate after church on many a Sunday afternoon. Now, I love to share water from my own bottles during family meals. Every night, I put my change in a special large Blenko bottle (see photo), lifting the same lid my dear Daddy did for many years before his death in 1993. Most recently, I have blown my own glass pumpkin with the skilled artisans of Blenko and will treasure that memory and item forever.

-Becky C. from Barboursville, WV
---
I am the niece of Don Shepherd, Uncle Don always spoke highly of Blenko.
-Janet L.
---
I am a Fairmont State Studio Art major and for my Senior show I am doing the theme Rooted in Strength. Each piece is a narrative of a female family member and their story of strength. Each woman also has some sort of glass or ceramic pieces or sets, that will sit beside them. Example, my Grandmother will have her painting, then beside her will be her will be a Hull tea set. Long story short, my Mother is definitely a Blenko! Her pieces will be either the water pitcher or a big cobalt bowl. Hopefully, mine will be the Storyteller piece. I know mine isn't the traditional story of how Blenko has affected my life but I am incorporating it by passing these stories on to my girls and their generation of cousins to make sure they appreciate (or at least one of them will) the rich stories of the women in our family.
-Danielle D.
---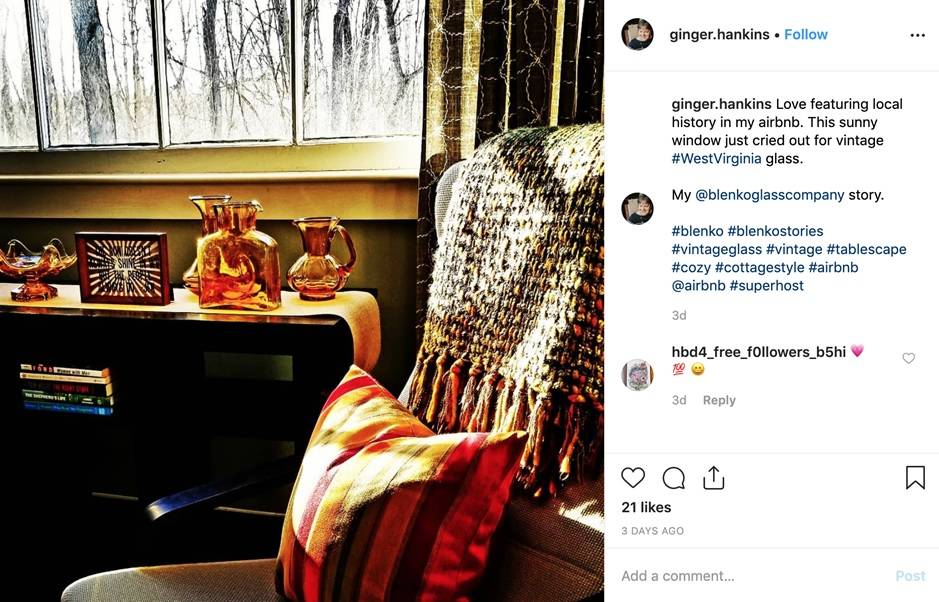 ---

---
My son has had a love affair with the Blenko WV birthday glass, beginning when I purchased the first piece in 1982 for his dad. As he grew up, he took an even greater interest in beginning his own collection of these beautiful pieces celebrating WV.

In 1995, he was selected to participate in the Russia WV Foundation exchange program through the Governor's Honors Academy. As part of the program, we hosted a young student from Korolev, Russia in June of that year. In identifying experiences in WV that would be unique for him, we decided to take him to the Blenko WV Birthday sale at the Stone and Thomas store in downtown Charleston. We got up very early in the morning to claim our place in line. He had the opportunity to meet the die hard Blenko aficionados, sharing in the excitement of the pending sale. He has a great sense of humor and when asked if he had ever experienced anything like standing in line for so long, he remarked that as a Russian, he had stood in line for many things, but hopefully there would actually be something to purchase at the end of the wait.

As the doors opened and the rush to get to the second floor ensued, I was glad to have two teenage boys to lead the way. We were very close to the front of the line and as we were waiting, a reporter caught on that Oleg was "not from around here." He asked if he could interview Oleg, capturing the moment for the evening news. We purchased two vases that day. One sits in my son's home in New Jersey. The other was a gift to Oleg's parents for hosting my son, Adam, in Korolev in October of that year.

We filled Oleg's time with trips to the mountains, the Capitol, an Alley Cats game, and other notable WV experiences. However, none of these were as unique as the Blenko experience. Each time I have stood in line, waiting to purchase another WV Birthday piece, I remember my Russian "son," his family, and the wonderful experiences the Russia WV Foundation, including hosting over 60 individuals visiting our state and travelling to Russia, has provided my family.

As a side note, my son dated a young classmate who has a complete WV Birthday collection as she was born on the day of the first sale. Her family added to her collection each year.

-Debby T.
---
We went every year at the end of the school year as a treat and since moving away, it is always a place I (we) stop when going home to Huntington. I give Blenko glass as gifts, my daughter and I buy each other special pieces and have purchased sheet glass for friends that work in stained glass!
-Lucy D.
---

---
My grandmother took me to Blenko to dig for treasures in the factory 'seconds' way before the visitor center was built. These trips from BarboursviIle to Milton are some of my favorite memories. I had cousins who worked at Blenko and I have wedding presents I received 55 years ago that I still use today plus items I've purchased on visits since then.
-Sara R.
---
My Uncle, Warren Stephens, started our family tradition of glass collecting. It is amazing how many West Virginia Birthday pieces he acquired without participating in the "Stone and Thomas Run" or the more pleasant "Mall Sit-In" at Elder Beerman. By the time the event moved to the Clay Center and subsequently the Blenko Visitor Center "Camp Outs", my Uncle had passed and my Father, Carl Lawson, had assumed the collection. Again his limited participation was amazing but that is one of the rewards of children and grandchildren. Every year he waited for our arrival, sometimes impatiently calling to see where we were at, but it was worth it to watch him unwrap the piece and say "I think this is the prettiest one yet". It would then be honorably placed in the middle of the mantle and my Mother got the job of locating a new location for the previous year's piece. I thought the 2013 West Virginia Birthday piece would be our last as my Father passed but that was just a thought. I haven't missed a year since and I prepare today for a sleep over at the Blenko Visitor Center, for the 2019 West Virginia Birthday piece. And each year when I show it to my son or friends I proudly pronounce it to be "the prettiest one yet". Thank you Blenko for creating beautiful memories, pieces of art and a tradition for my family.
-Kim L.
---
My glass story started 42 years ago when I met my dear Mother-in-law, Ruth Thompson. She had a passionate love for WV glass, especially for Blenko. I can go on for hours about Ma & her collection, but this is not her story, or mine, but our family's tale.
Ruth had a passion for WV glass that influenced her children Mike (my husband), Candy, & Jon (not really sure about him). Candy has passed on the clan Blenko love fest to her children. Mike & I have produced 4 Blenko collectors & 2 of our 3 grandchildren have the Blenko collecting bug.
4 generations of the Lucas family in 4 states have a combined collection of Blenko art glass that I am sure surpasses 1000 pieces.
The 2 grandchildren mentioned earlier, have both accompanied Mike & me on our yearly pilgrimage to Milton to "camp out " to buy our WV Birthday piece. This year is no exception. Jenna & a friend will be joining us at our annual affair.
Here is to the hope that our family glass traditions last for many years to come.
-Marie L.
---
No on in my family worked at Blenko but my maternal grandfather did work for several years at Fostoria. I am not sure what he did though. My grandmother (his wife), my great grandmother (his mother-in-law) and his sister collected quite a bit of Fostoria glass. Then once my mother moved to Huntington after she married, she started collecting Blenko glass as well as Pilgrim glass. I remember going to both plants for school trips as well as going with my mom. I left Huntington to go away to college when I was 20, but I would stop at Pilgrim when I flew home since it was near the airport. Then when I came back for my 30th high school reunion (2008) with my new husband, I took him up to Blenko. He has collected antique glass for years and I wanted him to see WV hand blown glass. We bought some pieces for ourselves and also for our daughters. I have been gradually adding to their collection and my collection!!! We have been back a couple times since but it is quite a distance from our home near Orlando. I love taking pictures in your showroom with all the colors and sunshine!!
-Susie M.
---
Even though my Blenko collection is not huge and super valuable, I do have one item from the 70's that Richard signed a few years ago in Coppell, TX. I grew up with Blenko and appreciated it at a very young age. I visit Blenko every time I return to H-town. I meet Blenko collectors all over Dallas. One person bought Blenko from an estate sale. How do I love Blenko? Let me count the ways.....
-Kathy H.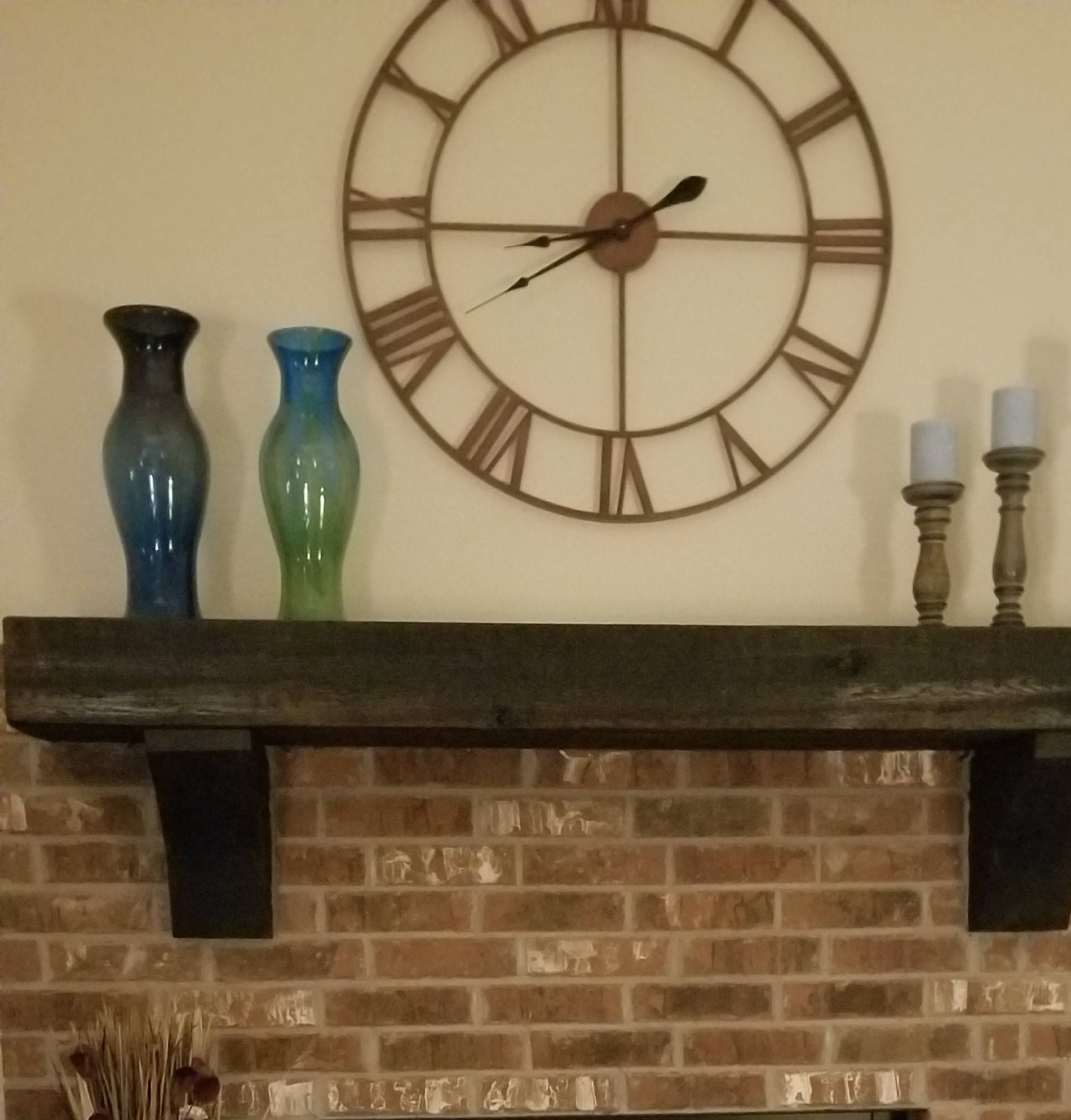 ---
I was one of four young siblings, close in age, in the 1960's and our mom and dad were fascinated by West Virginia glass in general and Blenko in particular. We have memories of being deposited, asleep (or pretending to be) in the back of our station wagon and leaving before dawn from Northern Virginia for another family trip to West Virginia where the mountain, the glass factories and the people and Appalachian spirit spoke to my mom. We still have her glass and I have a few pieces of it with me now (and more at my dad's house) and recently started picking up some additional Blenko pieces to sit with our vintage ones. Thank you for your commitment to respecting the past and doing exciting things for the future!
-Karen W.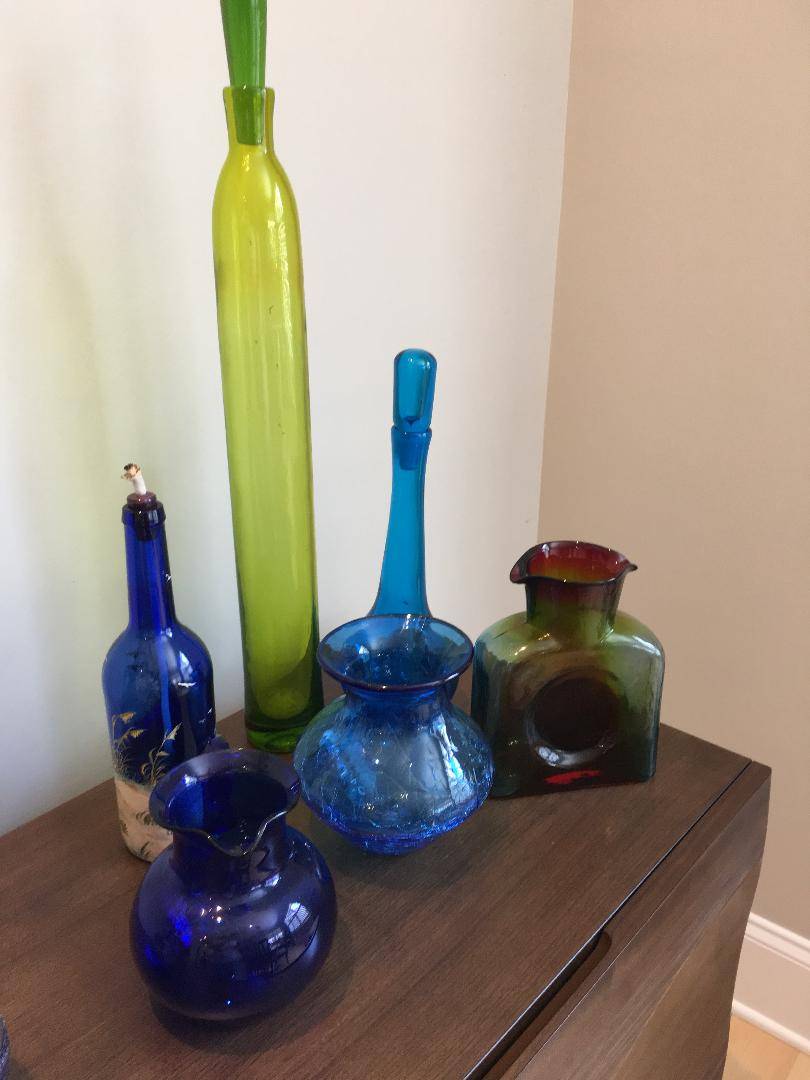 ---
I was born in Huntington, West Va. in 1956. I have many fond memories of growing up in Huntington and my favorite memory is going to Blenko. I was mesmerized by the colors, the glass blowing process and the gift shop looked magical to me. I have collected around 150 pieces of Blenko over the years. I have 32 water bottles and am still looking for the cherry blossom water bottle. The ruby red is my favorite. I am proud of my collection and am always thrilled when someone asks about it. I'm a Blenko fan for life!
-Judy D.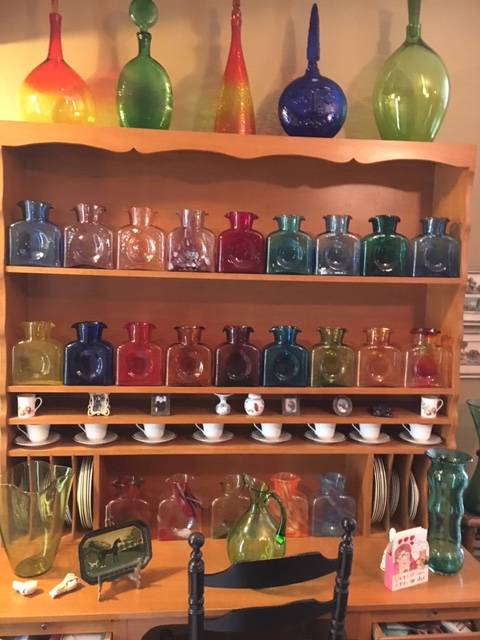 ---
Just about every trip to WV to see family includes a visit to Blenko. I have many Blenko pieces in every day use that alway bring family memories & smiles to my heart. I still order online from them to this day. Here is a recent Gold Rush edition water bottle that we're using as a vase. Love family. Love Blenko. Thanks Blenko artisans.
-Diedre A.
---
Share your story with us via email at stories@blenko.com
Stories may be featured on our website.
Your shared submission could be a picture, video, story, or specific shared memory.
Did a family member or you work in one of the hundreds of glass factories that once dotted our state? Do you have Blenko glass that you have used and enjoyed for years? Maybe you came to Blenko on a school trip. Maybe you know or have a friend or family member who has or currently works at Blenko!
Across the state and around the country Blenko and West Virginia glass has become an integral part, woven into our lives as a celebration of light and color. Join us and share your story as one of the voices capturing and preserving our oral heritage.