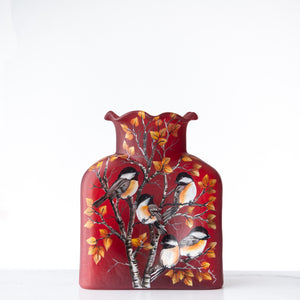 Ruby Whimsy 384 with Orioles
AUCTION HAS ENDED
End date: 11-24-2023 - 12:00:00 PM
Winning bid: $411.00 (8 bids)
Our shop sometimes gets a little itch they need to scratch with our crowned-whimsy 384 Water Bottles. Our warm Ruby absolutely loves being frosted, and all the better to be filled with sociable orioles all sheltering on the fall branches of a birch.
8" tall, 6.5" wide
Sunday,Monday,Tuesday,Wednesday,Thursday,Friday,Saturday
January,February,March,April,May,June,July,August,September,October,November,December
Not enough items available. Only [max] left.
Add to Wishlist
Browse Wishlist
Remove Wishlist