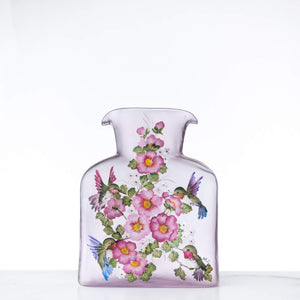 Pink Ice 384 with Hummingbirds
AUCTION HAS ENDED
End date: 11-24-2023 - 12:00:00 PM
Winning bid: $455.00 (8 bids)
Gasp! Our Pink Ice is a once-in-a-blue-moon treat when the stars align just right – but we found a beautiful delicate example buried on the back of the shelf – and gave it the painted treatment with this quartet of hovering hummingbirds! What an absolute treasure of a gift this holiday season!
8" tall, 6.5" wide
Sunday,Monday,Tuesday,Wednesday,Thursday,Friday,Saturday
January,February,March,April,May,June,July,August,September,October,November,December
Not enough items available. Only [max] left.
Add to Wishlist
Browse Wishlist
Remove Wishlist