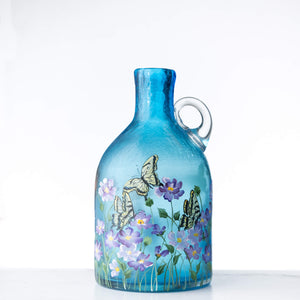 Ice Blue Moonshine Jug with 360 Butterflies
AUCTION HAS ENDED
End date: 11-24-2023 - 12:00:00 PM
Winning bid: $350.00 (4 bids)
Our Moonshine Jug in Ice Blue gets the full 360 degree treatment in this beautifully altered standard ware. A field of violet flowers is visited by a flock of butterflies in a beautiful palette of blues, purples, and pale yellows. The crackling on the jug is like the haze of a late summer sky.
9.5'' tall.
Sunday,Monday,Tuesday,Wednesday,Thursday,Friday,Saturday
January,February,March,April,May,June,July,August,September,October,November,December
Not enough items available. Only [max] left.
Add to Wishlist
Browse Wishlist
Remove Wishlist